Premium Adalo Templates & Custom Components To Make Your App Look Amazing
Don't waste months designing and building your app from scratch. With Templar Design, you can take an existing design, tweak it to make it 100% unique, and launch faster than ever before.
Templar Design is the best place to find premium Adalo templates & custom components. We have magnificent designs that are easily customizable, so you can make them your own.
We Are Proud To Be Recognized As An Adalo Expert!
New Templar Design Adalo Templates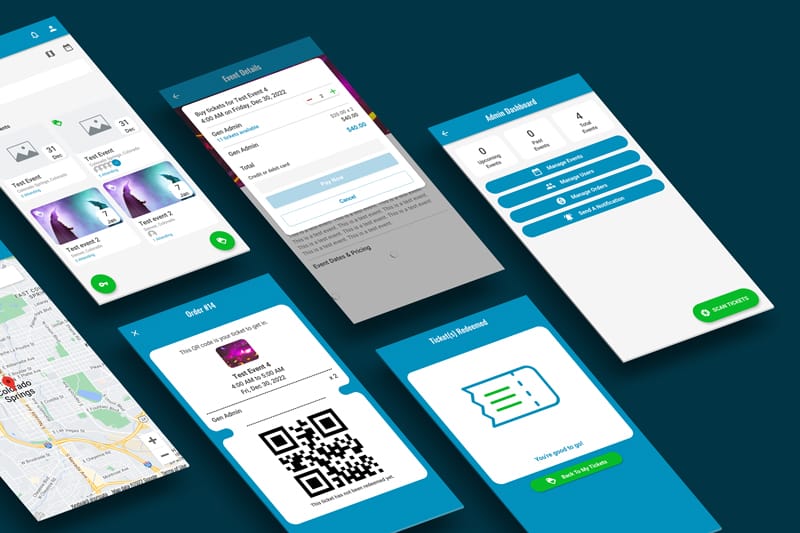 Event Management
Platform: Native Mobile (iOS, Android)
Our Event Management Template is the perfect solution for anyone looking to create their own custom app to manage events. With our template, you can easily sell tickets online and scan them at the door with our included QR code scanner. And our admin dashboard makes managing your events a breeze.
Yoga & Meditation
Platform: Native Mobile (iOS, Android)
The Yoga & Meditation template allows you to quickly create and launch your own custom Yoga & meditation app. Users can set their mood and goals to customize the session selection. We've also added custom time calculations to display how much time the users have spent in sessions – so that your users can keep track of their progress!
Project Management
Platform: Web
Struggling to keep track of all your projects? Our Project Management Responsive Web App template will help you manage your projects with ease. Add teams and team members, add clients, add projects, add tasks – it's that simple. You won't find a more user-friendly or intuitive project management tool for Adalo on the market today.
New Templar Design Adalo Custom Components
Ratings Card List
The Ratings Card List Component is perfect for displaying your testimonials, reviews, and ratings in your Adalo apps. It's easy to use and customizable so that you can match it with your existing design scheme.
Magic Text Icon
The Magic Text Icon Custom Adalo Component is a great way to spice up your app with minimal effort. With this component, you can change the icon and the color of the icons by setting them via magic text. This makes it super easy to use and gives you more control over how your app looks.
Floating Tab Bar
Give your users an intuitive and efficient way to navigate through your app with the Floating Tab Bar Component for Adalo. It's simple to use and customizable so you can create the perfect user experience for your app.
Templar Design Adalo templates and custom components are built with pixel perfection, high-quality graphics, and retina screens in mind, so there's no need to hire a professional designer!
Our Adalo templates are fully functional and super easy to customize. You can switch the fonts, colors, logos, images, and text within minutes on any screen to match your app's brand.
If you ever get stuck using one of our Adalo templates or custom components, our team is on standby to help you out via email and/or live chat during our business hours.
Our support team lives and breathes app development, so we know our stuff backward and forward. So if ever you are unsure, just ask us a question in live chat or via email. We are here to make your life easier!
Lifetime Access & Unlimited Usage
Use the Adalo templates and custom components over and over again at any time you desire. You have lifetime access to your purchases and can deploy a template clone in under a minute.
We guarantee that all of our Adalo templates and components are 100% compatible with Adalo and the latest iOS & Android devices!
When we release new versions of templates that you've purchased with new features/benefits, you can always access the latest version free of charge! We'll even notify you when there are updates and enhancements.
Templar Design's Adalo templates are built within Adalo and our custom components are coded in React Native. They are fully functional right out of the box!
You don't need to know any code. We did all of the hard work for you.
Simply clone the template into your Adalo account. Then, replace images, fonts, colors, and texts in the Adalo app editor to match your app's brand.
How To Access Your Adalo Templates & UI Kits
Purchase your favorite Adalo templates & custom components. Then, click on the "Access Purchase" button.
Once you've browsed our Adalo templates and custom components marketplace and selected your favorites, add the templates to your cart and complete your purchase using your debit/credit card. Your account will now have the templates that you purchased in your account dashboard.
"Clone" the app to your account or copy and paste screens/components into your app.
When you click the "Access Purchase" button, you're taken to an app previewer page where you'll see a "Clone App" button. Click this button to clone the app to your Adalo account. Then, customize the app to match your brand.
Need A Custom App? Click Here To Chat
1-on-1 Mentoring Available
Learn how to build your custom Adalo app over a Zoom call with an Adalo Expert, Mario Flawless
If you ever get stuck when you're building your app in Adalo, you can always schedule a 1-on-1 mentoring session with us so that we can teach you how to build out the feature you're stuck on. You can add us to your team and we'll share our screen with you to show you how to build your custom app in Adalo step-by-step.
1-on-1 mentoring sessions are available for all Adalo customers, whether you're on a free plan or a paid subscription plan. Our mentoring sessions are $100 per hour. We promise to never upsell you on any of our products or services – our only goal with mentoring is to help you build the best app possible.
We hope you never get stuck when building your app, but if you do, we're here to help!
We Want To Help You Launch Your Adalo App Faster
The Templar Design premium Adalo templates and custom components marketplace includes a plethora of amazing designs and components to make your app look good and function well.
You may save weeks or even months of development time by using one of our pre-made templates as a starting point for your own custom Adalo app. Our team has already done the hard work, so all you have to do is add your own content and branding!