Templar Design's App Development Blog
If you're an app developer, then you know that the process of creating a successful app is far from easy. There are so many different things to consider, from designing a user interface that's appealing and easy to use, to making sure your code is optimized for performance. Not to mention all the marketing and branding decisions you have to make!
In this blog, we'll share our tips and insights on everything related to app development, from start to finish. So whether you're just getting started in the world of app development, or you've been at it for a while and are looking for ways to improve your skills, this blog is for you!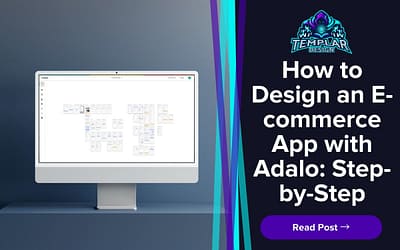 E-commerce apps have become an essential part of the retail industry, allowing businesses to reach more customers and generate more sales. However, building a fully functional e-commerce app from scratch can be a daunting task, especially for those without technical knowledge or coding experience. That's where Adalo comes in. Adalo is a no-code app builder that enables you to create professional-looking, feature-rich e-commerce apps without any coding knowledge. In this post, we'll walk you through the step-by-step process of how to design an e-commerce app with Adalo, step by step. From setting up your account to publishing your app to the app store. So, let's get started!